Having a weight bench at home means you don't have to crawl on the floor or rely on a rickety chair to support your weight. A suitable adjustable weight bench is durable and made from high quality materials such as commercial grade steel. It serves as a stable platform for many strength training exercises, such as the dumbbell chest press. Seated Shoulder Press Reduces chest tilt and possibly abs.
But the biggest advantage of folding exercise benches is that they are foldable and easy to move. Some fold in half Others can be stored vertically. This makes it easy to store when not in use. You can also repurpose valuable real estate such as garages and basements.
I am sure this is the perfect folding exercise bench to bring home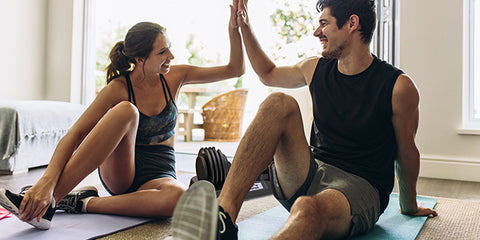 【UPGRADED MATERIALS AND STABILITY】Lusper adjustable weight bench features upgraded durable steel construction with 660 lbs capacity.Professional engineered ultra-rigid triangular construction.
【Very Versatile】Amazing adjustability to make bodyweight or free weight training more effective. Strengthen and tone all muscle groups and easily reach your fitness goals.
【Worry-Free Guarantee】The extra-long headrest and ergonomic backrest shape were designed by Lusper's team of experts and professional fitness coaches. The long headrest and rounded backrest care and protect the entire spine. Especially the cervical spine to ensure your training is safe and injury-free.
【Ultimate Comfort】High-density foam padding on the backrest, headrest and seat provides great support. You can exercise in maximum comfort covered with the highest quality waterproof PU leather. You can rest assured even if you sweat during exercise.
【Faster Folding】It only takes 3 seconds to fold the adjustable weight stand and can be easily removed by the handle. Can be stored vertically or horizontally even in narrow spaces.
【Worry-Free Service】 We provide 1 year warranty for all frames, headrests, headrests and seats. Please feel free to contact us.
Price: $139
2.Bowflex 5.1S Stackable Weight Stand
Featuring a space-saving design, this Bowflex bench stores upright when not in use. It reduces the footprint by more than 50% and the angle he can adjust in 6 steps. It includes a -20 degree drop and performs horizontal and tilting movements. Then tilt the bench down to tackle less variation.With a 600-pound load capacity, this heavy-duty bench is sure to handle every jump.
Price: $349
3.More detailed folding exercise bench
Even if you can't adjust the backrest or seat. But this exercise bench is perfect for small spaces. You can easily fold it up and store it under your bed or in your closet when not in use. It is also a thick cushion. Maximize your training at home. And with a capacity of 1,000 lbs, the Finer Form Bench is the most powerful bench available.
Price: $150
Overall, the Lusper Adjustable Weight Bench is a more expensive option for those who want a space-saving bench in a small space.